Marketing Capability
We understand that businesses want to develop motivated inspired talent because it is through the growth of people in the business that the business will grow.
However, training should never be commissioned for its own sake as it is not an end in itself. We believe that the key to successful training is to focus on a business result – and that people can deliver results whilst they are training.
So not only can you have a better trained, more effective team, but you can also convert training needs into answers to live business questions in the process such as:
how can we use insights more effectively? – becomes: using insights to fuel brand growth

how do we write brand plans? – becomes: a new brand plan for brand x that addresses the core opportunity of penetration gain

how can we make our brand work across channels? – becomes: a new channel strategy for brand z

how do we develop brand propositions? – becomes: identifying growth drivers and a new proposition for brand y

what is the best way to implement and manage an innovation programme? – becomes: a new pipeline of innovation from a new embedded process
Tangible has developed a new Marketing Capability proposition that combines our experience with industry best practice to create a new tailored, lower cost and faster approach that will deliver immediate and tangible business benefits.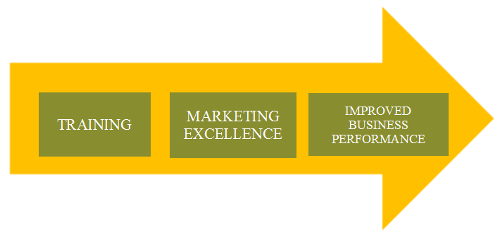 How we do it:
Social learning theory proves that people reach their goals from direct in-workflow experience and from coaching and guidance from other people.
The programme delivers a series of topic specific learning by doing activity streams based on key business needs such as actionable insights, effective product innovation, winning brand strategies.
It is founded on the principles of the 70:20:10 ratio where participants gain inspiration from readily accessed self-learning video or e-tutorials; work with colleagues and external expert marketing practitioners to develop deeper understanding from time efficient moderated interactive seminars or webinars and then apply this to real business issues in live TEAM workshops.
Effective training produces tangible business results and the programme is designed, tailored and measured to ensure it builds actionable outputs from tailored content in each subject platform which form direct inputs into live projects and work streams.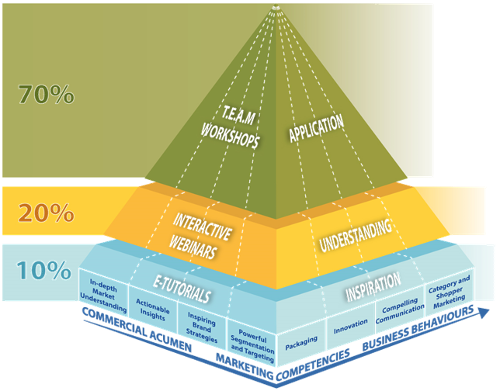 If you would like to know more about Tangible Marketing Capability please contact Dominic Box or Elaine Willis